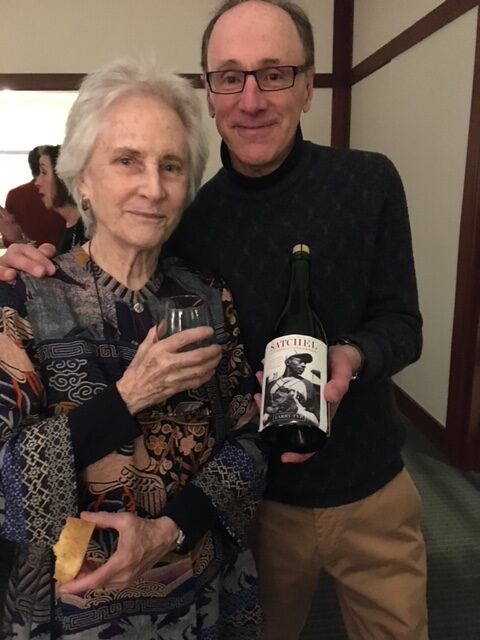 MEMORIES OF JILL KNEERIM (1939-2022)
When I think of the marvelous literary agent Jill Kneerim, as I have been nearly non-stop the last few weeks, I think about a bottle of beer. Bottles, actually – eight of them, from an unspecified brewery and outfitted in unlikely labels.
The first was a book jacket with the word SPIN in block letters, along with pictures of ripe bananas, an old-time desk fan, and a silk-stockinged debutante lighting up a Lucky Strike. It conjures up memories of a Boston Globe reporter named Tye unsure that he could transition from 1,000-word articles to 100,000-word books, a 102-year-old public relations pioneer named Edward L. Bernays aching to be immortalized, and a book agent named Kneerim who specialized in making dreams like those real.
Then there was the bottle wrapped in a label saying SHOCK. In this tale Jill doubled as a matchmaker. She united me with our Commonwealth's former first lady (Kitty Dukakis), convinced me to trade topics for a next book (the beloved Mickey Mantle for the dreaded electroconvulsive treatment that Kitty says saved her life), helped Mrs. Dukakis and me craft a model writer's compact in case we couldn't get along (we could and did), and secured a rare authors' liability policy in case ECT's hot-blooded critics sued us (they didn't). Shock sold fewer books than Mickey might have, but impacted more lives, just the way Jill had forecast.
The most striking sheath featured a photo of the athlete, showman, philosopher and boundary breaker Leroy Robert "Satchel" Paige. It also was the most striking opening I'll ever craft for a book proposal, courtesy of my agent-rewriter: This is a biography of two American icons, Satchel Paige and Jim Crow.
There were more markings, with adventures behind each – of Bobby Kennedy, a book whose pitch we composed over a frantic weekend, then sold to a publisher whose first job was interning for Ted Kennedy; of the Pullman Porters, a topic we settled on after Jill instructed me to come up with 20 potential ones; of stories from across a Jewish diaspora that my gentile agent knew better than a born-and-bred Jew like me; and of Superman, where she predicted we'd know if my Random House editor loved or hated it 20 seconds after we unveiled it for him (he smiled, then bought it).
Demagogue was our most recent collaboration, and Joe McCarthy's sour puss graced my last beer bottles, a reminder not merely of how vile he was, but of how, on the train to New York to try and sell the idea, Jill brilliantly proposed it be a story not just of the senator, but of America's love affair with bullies.
Those bottles bearing our titles were a gift from Jill and her artist-inventor husband for my milestone birthday two New Year's Eves ago. What other agent would have come up with a creative touch like that, and pasted it on enough bottles to sate the thirst of that night's guests and dozens since? Who else could, over these three glorious decades, have helped me pick topics and forge proposals, sell them to just the right publishers and editors, review and improve the manuscripts, and rescue me each time I was orphaned or my publishing house was? She even helped pitch the completed products to skeptical baseball fans, comic book readers, Black and white audiences, and Jews across the planet. She engaged with the covers, too, knowing how critical they are to meet her 30-30 test – getting readers to plunk down $30 and devote 30 hours –  even if she didn't know they'd someday grace bottles of amber liquid.
She was the toughest editor – and the best – I've had in half a century writing articles and books. No surprise, for a wordsmith who learned her craft first at Simon & Schuster, then at the publishing house she co-founded and that launched writer-advocate Ralph Nader (while showering, she dreamed up the title for his breakthrough book, Unsafe at Any Speed). For me, her endless edits made in her airy office on Canal Street guaranteed that every word from eight proposals made it into the books themselves. Jill was the kind of mentor I'd never had. Best of all, she's been a dear, dear friend.
I wrote this story for Jill when she entered a hospice in Lincoln earlier this month, and I recount it now not to suggest that my experience with her was unique. Just the opposite. In the week since Jill died, I've read tales from journalists and academics, doctors, musicians, poets and publishers whose lives she transformed. They hovered out of sight during her final days, linked by emailed reports from her husband Bill and brother Will and occasional photographs of the brilliant green spring unfurling outside her bedroom window. Afterwards, pictures streamed in, including my favorite of Brooklyn-bred Jill in a leather jacket and pixyish haircut, shopping with a client in New York. Stories, too – from a Pulitzer Prize winner Jill believed in when "no one else would even return my call," a poet laureate in awe of her "energy given all the time," and chart-topping novelist Brad Meltzer's recounting of how, when he was a 24-year-old unknown with a chip on his shoulder, Jill "made my universe bigger" and "guided me into adulthood."
It wasn't just them, or even her adored niece, nephew and step-children. Jill mothered as well as mentored hundreds of authors and scores of agents. The Kneerim treatment involved not simply peddling books and holding hands, but helping us remember, to her last words last week, the centrality of tikkun olam, or repairing a broken world. That was Jill's calling card as she and Harvard classmate Ike Williams built their Boston-based agency in 1990. 
Unlike most of Jill's clients, I'm an expert on nothing, but I wrote a biography of the Man of Steel that has me thinking about our need for heroes and what characterizes the best of them, like Jill Kneerim. 
Superwoman, indeed.